Whether it's her birthday, Mother's Day, or any other occasion when the time comes to show your appreciation for your Mom, why not step outside of the traditional wrapped presents route? Our range of Bay Area arts, crafts, and cooking workshops make fabulous gift experiences for Mom that will leave her with memories she'll cherish, new skills, and tons of fun to be had during the class.
There's no denying it's been a rough couple of years due to lockdowns, but now that restrictions have eased up a bit, why not get out and experience some fun things to do in San Francisco with Mom, and share some quality time together trying out a new hobby? Our classes are held at fun, inspiring art studios, kitchens, and maker shops throughout the Bay Area, giving you the chance to do a bit of local tourism that's off the beaten path. If you'd prefer to stay in, we have tons of online classes in everything from mixology to candle making, and we send craft kits right to your door - it couldn't be easier!
If you're looking for gifts for Mom ideas, no matter the occasion, we've got you covered with our fun, hands-on Bay Area workshops. Check out these ideas for some of the best things to do in San Francisco and beyond for when it's time to celebrate Mom!
Make beautiful and useful gifts for Mom at pottery classes
Not only is visiting a local pottery studio a fun outing to do with Mom, but learning how to craft your own mugs, bowls, and more on the pottery wheel will fill her with feelings of satisfaction and wellbeing. As she settles into the meditative aspects of working with clay, any stressors or worries will slide off her shoulders.
As with many of our hands-on art and craft classes, the class itself is an experience gift, and you also get to take something special home that you made with your own hands during class. So, when Mom sips her morning coffee from a handmade mug she created herself during a San Francisco pottery class, she'll remember the fun quality time you shared in class, as well as the feeling of pride that she made something special herself.
Take home a bit of nature by building a terrarium
Terrarium making classes make wonderful gift experiences for Mom, because they involve soothing nature elements and also evoke fun childhood play. You get to arrange the plants and other elements, such as sand, sticks, and rocks, any way you like. Often, our DIY plant terrariums feature whimsical touches such as seashells or little figurines, such as fairies or gnomes, to add a bit of personality to your miniature world.
Terrariums are trendy right now and make cool gifts for Mom that don't require much upkeep. Succulent terrariums are notoriously easy to take care of, so even if Mom isn't known for having a green thumb, she can still enjoy her own slice of nature.
If you can't make it to a local plant nursery for an in-person class, we have plenty of terrarium kits that can be shipped to you in the mail. Why not make a cozy evening of it at home with Mom, and make your miniature plant worlds together as you follow along with a virtual instructor?
Expand your culinary horizons at cooking classes
Sharing a delicious meal together at a restaurant in downtown San Jose or Berkeley is surely a great way to spend quality time with Mom, but if you want to opt for an extra-special outing, book one of our cooking classes, held in chef's kitchens throughout the Bay Area. You'll learn new skills, make memories, and have a blast creating a meal together under the guidance of a friendly professional chef.
Our Bay Area cooking classes give you and Mom the chance to attempt culinary adventures you've never tried before. You can learn how to make homemade pasta at an Italian cooking class, put together a mouthwatering bowl of fresh Ramen, or whip up a batch of Indian paneer cheese. When it comes to unique gifts for Mom, our range of cooking experiences gives her the chance to experience the taste of a whole other culture, without leaving the Bay Area.
After your cooking class ends, enjoy sitting down to a meal with the other students in your class, where you and Mom will enjoy making connections with some like-minded new people!
Learn flower design and create a unique bouquet
Bouquets of store-bought flowers make good Mother's Day gifts, but flower arranging classes make great Mother's Day gifts! Learning how to create unique flower arrangements together is a wonderful idea if you're looking for cute gifts for Mom, because you'll get to see her express her personality as she chooses the look and style of her unique bouquet.
Working with flowers and plants is innately calming, and Mom will enjoy the tranquility that comes with doing flower design. After class ends, you'll get to take your bouquets home to display. If you opt for one of our dried flower arrangements classes, your bouquets can last quite a long time!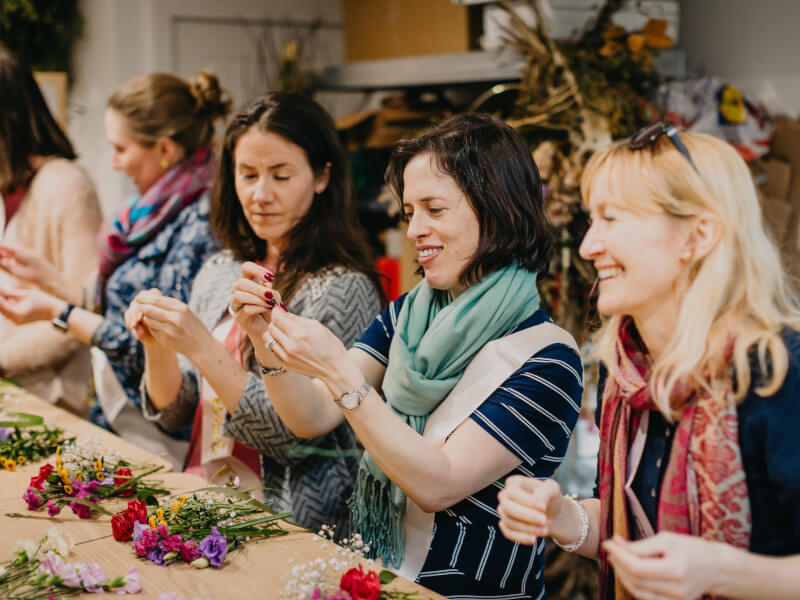 Shake it up with cocktail making classes!
It can be stressful being a Mom. If your Mom is in need of an opportunity to let loose a little bit, our mixology classes are just the ticket! Head to a fun cocktail bar in the Mission District where you'll learn how to make a mojito and a pina colada under the guidance of a friendly and talented mixologist. Cocktail making classes make great gift experiences for Mom because she'll have fun while learning lasting skills she can use to impress guests the next time she hosts a party!
We also have plenty of virtual cocktail classes, where you and Mom can stay in and learn easy cocktails to make at home. All the ingredients or materials will be shipped to you in a DIY kit before the class begins, so all you have to do is log in to Zoom and you'll be ready to go! Looking for more hands-on fun when it comes to gift experiences for mom? Take a look here!
Enjoy the best Bay Area activities with Mom
As you can see, there are tons of options for creative gifts for Mom to choose from among our Bay Area arts, crafts, and cooking workshops. No matter her personality type, we have something that will delight and inspire her. The best part is, it's an opportunity to spend quality time together!
Gift a unique experience
Pick a fun experience for them, or let them choose from our thousands of creative classes and kits.
Valid for 5 years.
card_giftcard Get a gift card