If you want to show your appreciation for your colleagues this Christmas, maybe it's time to forget traditional wrapped presents and give unique experience gifts in NYC instead. It's natural to build close bonds with your co-workers and whether you're still working from home or you've transitioned back to the office, creative workshops are a nice way to celebrate the season.
Forget yet another post-work party in the conference room. Why not turn it up to 11 with an event worthy of a real Christmas bash! New York experience gifts will treat your teammates to food, drink, and creative workshops you can only find in the city. Everyone can decompress, socialize, and focus on a fun activity without the stress of party planning or set-up time.
Ready to get those sleigh bells ringing? From creative cocktail classes to family-friendly craft workshops, read on for our guide to the best NYC experience gifts for teams.
Melt away stress with a candle making class
No matter what your profession is, there are different stressors as part of your job. Being able to take a step back and make time for self-care is important. A natural wax candle making workshop makes an ideal gift of experience.
It's the perfect remedy for stress and lets you gather for a soothing activity. Candle making classes encourage you to relax, unwind and enjoy some well-deserved downtime. Get ready to create festive-inspired scents using fragrances like cinnamon, pine, and tobacco.
Never made a candle before? No worries. There's no need for previous experience and you'll always learn from professional artisans at all of our NYC candle making workshops. They'll teach you how to melt natural wax, blend your signature scent, and pour your handmade candle like an expert. Buying a fancy candle can cost upwards of a hundred dollars and this creative experience lets you in on the secrets so you can make them yourself while having a terrific time with your colleagues.
Experience baking school with your team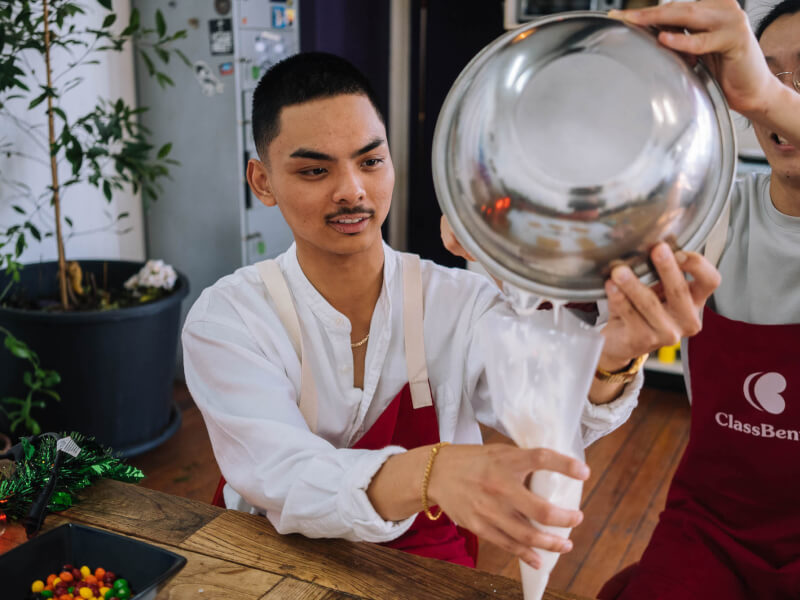 From sugar-dusted Christmas cookies to traditional Italian panettone or Mexican buñelos, baking classes are a sure way to have festive fun. For most teams, a culinary school couldn't be more different from the usual work environment. Your crew will love throwing on aprons and learning how to bake delicious Christmas treats.
There's no need to work in hospitality to enjoy these sorts of Christmas activities in New York. Zero previous baking experience is required, which makes these Christmas classes ideal for any team. Watching your managers ice gingerbread alongside assistants is a great way to help everyone get into the Christmas spirit while getting to know all your co-workers.
Get shaking with cocktail making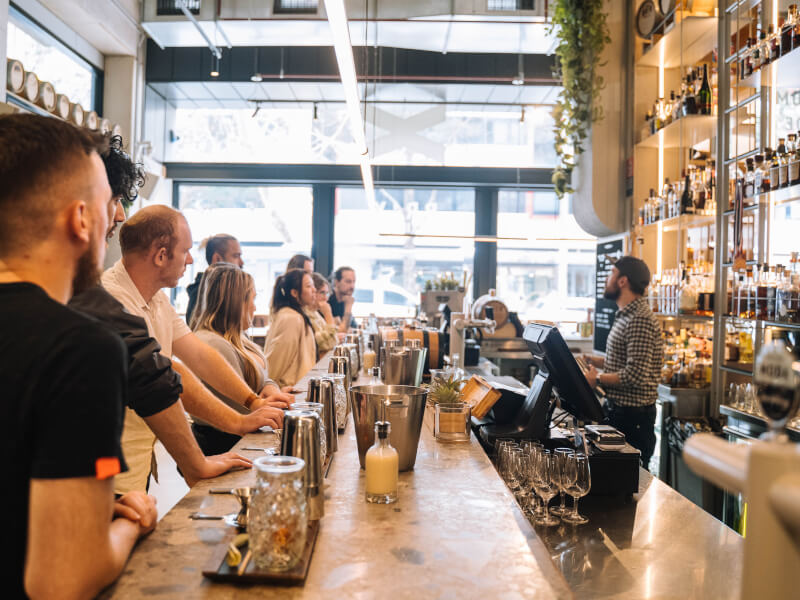 Whether it's stirring a Negroni or putting the finishing touches on an Aperol Spritz, learning recipes for holiday cocktails feels like the perfect way to get festive with your team! Cocktail classes make excellent experience gifts for the holidays and let you taste the best of what NYC mixologists have to offer.
Show up to a local speakeasy and learn from a professional bartender or book a private lesson and bring the party to you. If you love the idea of getting the inside track on the latest drink recipes, this is the place to start. Don't stress if you have co-workers who don't drink. You don't have to leave anyone out because our mixology classes will include lessons on how to make non-alcoholic drinks.
Create a Christmas wreath
Nothing says Christmas quite like a festive wreath and you can get your teammates together for a DIY project that gets you in the holiday mood. You'll love coming together with your colleagues to learn how to make handmade Christmas wreaths. Keep things traditional with holly, evergreen branches, and pinecones or design a modern display using gold hoops, eucalyptus leaves, and sparky decorations.
Try other plant displays like succulent wreath making or holiday terrariums. This is a unique experience where everyone can relax while working with plants and take home something beautiful to display at home or in your office.
Take a cooking class and feast together
Instead of getting a Christmas lunch catered, you can spend quality time learning how to cook at a New York cooking school. Bring out your inner Iron Chef and compete with your colleagues in team cooking challenges. A friendly cooking competition is a cool way to close out the year and share an amazing meal. If you'd rather be chill about it, you can learn how to make pizza or fold perfectly filled dumplings in a more traditional cooking class.
You'll show up with all the ingredients ready for you to transform. Learn all the tips and techniques from a local instructor who will walk you step by step through each recipe. Many of our classes are BYOB so you can indulge in a glass of Chianti or beer while you wait for your pizza to come out of the oven or your pasta to cook.

There's always something new to try out in New York and experience gifts let you share the magic with your team at Christmas or any holiday to celebrate during the year.


Gift a unique experience
Pick a fun experience for them, or let them choose from our thousands of creative classes and kits.
Valid for 5 years.
card_giftcard Get a gift card