If you have friends or family members who are keen to learn new things, why not give them a Christmas gift that keeps on giving? Our workshop experience gift cards give access to a whole host of classes, where you can learn stunning macrame handcrafts, sculpt ceramic pots or even create your own jewelry. We're here to help you find the best gift card online to inspire your loved one to take up a new hobby they'll find both fun and relaxing! Whatever their interests, we have plenty of gift card ideas to choose from.
Craft some new additions for the jewelry box
Do you have a special lady in your life? If you're wondering what kind of gift to get her this Christmas, there's no need to scratch your head with the best gift cards for women just a click away. What lady doesn't love an exquisite piece of jewelry? Well, now she can learn how to make her own whenever she feels like it, courtesy of our colorful virtual class, make polymer clay jewelry.
This beginner-friendly one-and-a-half-hour craft workshop will teach her how to roll, shape, and design DIY earrings using polymer clay. It will also introduce her to other artistic enthusiasts located all over America who share her love for beautiful jewelry items.
Have a glazin' good time!
If you have a friend or relative who is looking for something fun, fresh, and sociable to get involved in, one of our pottery experience vouchers would make a highly motivational Christmas gift. To get them off to a flying start, sign them up for an immersive make pottery at home workshop. During this live class, they will learn how to become confident with clay and sculpt their very own masterpiece, while getting acquainted with some friendly new faces.
Create a colorful collage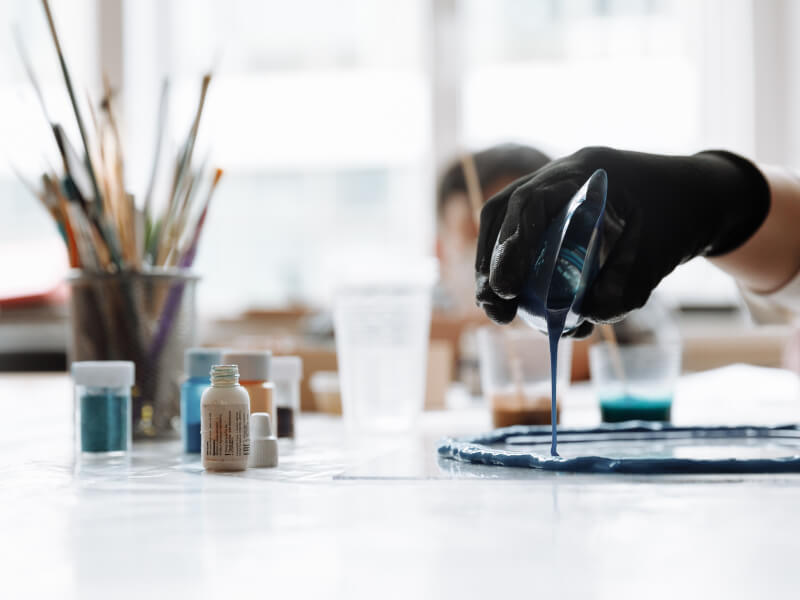 Don't be fooled - collages are not just for kids! If you're looking for a gift card online and you know someone who'd benefit from a gentle but creative new pastime, then one of our collage classes is sure to make the perfect e-gift card idea.
Gift them a joyful collage at home session and they'll soon find themselves radiating positivity as they cut, glue, and stick their way to a stunning personalized papercraft. Throughout the workshop, participants will be encouraged to express themselves in a colorful way, helping them to take a step back and rediscover their hopes and dreams for the future. What a great way to unwind and get creative!
Take part in resin art
Making resin art is a quirky and creative activity that is just perfect for people who like hands-on projects. Plus, it's one of the most unique gift experience ideas out there, so it's unlikely your recipient will have tried it before!
This make resin art at home virtual class provides a platform for you to try out a new art form while working at your own pace and getting the chance to meet some new faces from all across the United States.
Before the session is due to start, everyone participating will receive their own well-prepared DIY craft kit containing the various materials they'll need, including pebbles, sand, and a silicone sealed frame. Once the workshop begins, your skilled teacher will let you in on a wealth of creative techniques to help you create your own unique piece of resin art, which can then be proudly displayed on your wall once it has set.
Drawing and drinking: the perfect combo
Among our selection of the best experience gifts, you will find our entertaining and interactive online art classes, some of which allow you to savor your favorite bottle of wine while you create a masterpiece.
Gift one of your friends or relatives an e-gift card for one of these drink and draw at home classes. This fun-filled virtual experience will help your loved one take up a new hobby while enjoying a relaxing drink at the same time. What better way could there be to unwind and learn something new? The hands-on class is highly popular thanks to its talented and encouraging teacher, not to mention the various engaging exercises its participants get to try out – including drawing with their eyes shut!
Do you know someone who's a Disney enthusiast? Buy a gift card online that grants them access to a special drink and draw workshop just for Disney lovers! This light-hearted class will give your lucky recipient the chance to create colorful artworks with their favorite Disney character as the central figure. They can also laugh, chat, and unwind with fellow Disney fans based all over America. Whether it's swapping stories or simply enjoying a conversation about everyone's favorite animated movie, they'll be truly in their element.
Manifesting desires for a positive future
One of the most uplifting new hobbies anyone could take on is using creativity to tap into - and potentially manifest - their deepest longings, dreams, and desires. From making vision boards to daubing your wildest hopes on canvas, there are a variety of ways to express yourself through art. Plus, if you're on the hunt for memorable virtual experience gifts for someone you can't see in person, then art classes make wonderful email gift cards that you can tailor to suit your recipient.
Treat someone special to some plant therapy
If you know anyone who needs a boost after a long and taxing year, why not get them a gift card online that will introduce them to the healing power of plants? Gardening - or even just adding a few house plants to your home - is soothing and restorative for both body and mind. If your buddy doesn't have access to a garden, that's no problem – send them one of many digital gift cards for an awesome terrarium making class.
Learn the basics in terrarium making at home, or treat them to something a bit more specialized with experience vouchers for quirky terrarium workshops like the DIY open glass terrarium with crystal workshop or a DIY sand art terrarium session.
If they love all things spooky, you could even book them into a spooky Halloween terrarium class, just in time for the end of All Hallow's Eve. Alternatively, harness the power of petals and get them creating DIY flower bombs, which they can use to brighten up their back yard or give to others as beautiful natural gifts.
Jewelry Making workshops - Virtual with Kits