Break away from the generic gifts for her and give your loved one something they'll really enjoy! With arts and craft classes in SF, your lovely gift recipient will learn new skills, spend time with her favorite people, and meet a whole community of fellow crafters. From Oakland to Hayes Valley, Hayward to Mountain View, there are hobby workshops for every interest you can think of.
Whether you sign Mom up for a wine tasting class, surprise your girlfriend with cooking classes, or treat your bestie to a cocktail-making workshop, you're in for a fun-filled, unforgettable afternoon!
For all your upcoming special occasions, you can forget the list of tired gifts for her and wow her with these craft classes, instead.
Classes for art and creativity
No matter if the woman in your life is a skilled artist or just starting out, she can enjoy a range of art classes in all kinds of different mediums. Sign her up for a watercolor painting class or arrange for a group paint and sip class with a group of her best friends. Or, if she's not into the brush-based mediums, maybe she'll enjoy the freedom of an acrylic paint pouring class. No matter what, she'll go home with a beautiful piece of art, and more than likely, a bit of paint on her clothes and a smile on her face!
Painting classes aren't the only artsy hobbies she can learn. From calligraphy to drawing and more, there are plenty of ways for her to explore her creativity.
Relaxing classes to unwind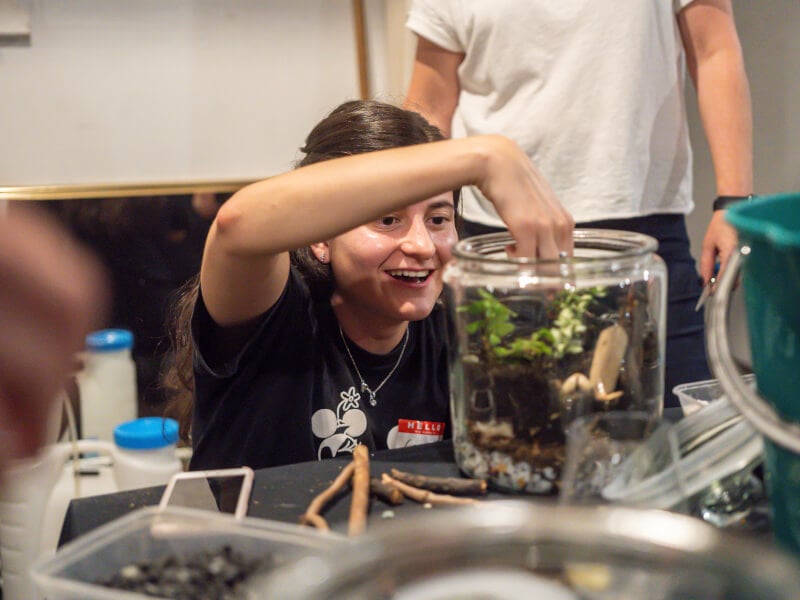 Looking for birthday ideas with relaxation built-in? How about an aromatherapy session? And no, we're not talking about booking her a trip to the spa! In a candle-making class, your special someone can enter the world of aromatherapy through essential oils and dried florals as she creates her own soothing fragrances.
Any time she wants to create a tranquil space at home, she'll be able to break out the handmade candles and unwind.
Fun classes to get your hands dirty
We don't mean that figuratively. With plant classes, your gift recipient will really get their hands covered in dirt! Whether they're assembling a kokedama moss ball or a tiny DIY terrarium, your loved one will roll up their sleeves and get back to nature with these plant-tastic classes.
Not only will they walk away with their very own plant to add to their collection, but they'll also enjoy all the health benefits that come from playing with plants. With the relaxation, lowered stress, and increased focus that comes from this type of hobby, her newfound love for plants and planting might lead to a life-long self-care practice!
Classes that raise the bar
Maybe you're looking for bachelorette party ideas for the special lady in your life. If that's the case, then her face will light up when you tell her she's in for fun mixology classes! She and her group of gals will have the chance to make amazing cocktails with the help of knowledgeable local mixologists. No matter her drink of choice, she'll learn how to make a mojito, margarita, or martini of her dreams alongside her closest friends.
If cocktail making is more hands-on than you think your gift recipient would enjoy, you might try an afternoon of wine tasting or beer tasting instead! Round up the girls for a fun outing to a distillery, brewery, or winery for a boozy lesson in her favorite beverage.
Best classes for the interior designer
Instead of heading to your nearest box store to get a generic birthday gift for your loved one's home, put the reins back in her hands with a crafty home decor class. From macrame to weaving to screen printing, these classes are designed to give your gift recipient total creative control over her wall art, throw pillows, and more.
In a macrame for beginners class, she'll learn to make chic items like a DIY plant hanger or beautiful macrame wall hanging. Or, sign her up for a class with a loom and a weaving expert! She'll be designing wall hangings, coasters, and floor rugs to match her unique style.
She has the vision, now give her the skills to make her interior design dreams come to life!
Classes to appeal to her taste buds
If your special someone loves to bake, cook, or follow her taste buds to the best restaurants in the San Francisco Bay Area, she's bound to love all of the culinary classes offered in SF.
In a cooking class, she'll learn from local chefs who will introduce her to new flavors, ingredients, and cooking styles so that she can build her repertoire and add to her recipe book. Or, give her a more laid-back experience with a tasty cheese tasting or chocolate tasting course. With special attention to flavor notes, she'll build her palette to better appreciate her favorite foods.
Outdoor classes to explore the city
Outdoor classes are some of the best gifts for women who are adventurous and active. Walking photography tours, for instance, will get her out and about to find inspiration and learn how to take better pictures. If she has a DSLR, she'll learn all about things like shutter speed and exposure. But even without the heavy-hitting camera, a smartphone photography class will teach her how to take amazing pictures on the fly.
Photography classes are ideal gifts for couples who love to explore the city. And there will be plenty of opportunities to turn the camera around and take updated couple's pictures too so that you can remember this unique date idea.
It's time to upgrade the list of gifts for her
Flowers, chocolates, and teddy bears are nice, but if you're looking for more personalized gifts for her, experience workshops are the way to go.
Your special someone will have so much fun learning a new hobby and using her creativity to make art, a delicious meal, or the perfect cocktail. And, with these craft-based gifts for her, she'll walk away with special memories and a new hobby!
Looking for more unique gifts for her? Here are more excellent recommendations!
Gift a unique experience
Pick a fun experience for them, or let them choose from our thousands of creative classes and kits.
Valid for 5 years.
card_giftcard Get a gift card