No matter how different the members of your workforce are, rest assured there are team building activities in the Bay Area that everyone in your company will enjoy. With our collection of Bay Area arts, crafts, and cooking workshops, you and your colleagues can explore creative hobbies, from pottery making to perfume blending. And, with a little creativity, you can turn our classes and workshops into opportunities for team building games that will be highly enjoyable and memorable.
Our unusual team building ideas have the added benefit of introducing your team to Bay Area activities they can continue to invest in if they find something that excites them. As adults, it can sometimes be hard to find hobbies to pursue. It's easy to get into a routine of going to work, the gym, and dinner, then succumbing to activities like watching shows and scrolling social media before falling asleep. Our team building games have an added benefit in that they are not just something to do once and be done with, as many team bonding seminars are. With our engaging Bay Area experiences, you can learn new hobbies that you might enjoy continuing to develop on your own after the workshops end.
Whether our workshops make for quick team building activities to be enjoyed over a single afternoon or evening, or they wind up sparking new hobbies and passions your colleagues will want to continue, one thing's for sure: everyone will have a great time at these fun and engaging Bay Area activities.
1. Demystify making latte art designs
If your office is like most, then there's a good chance you and your colleagues bond over a shared love of coffee. Getting a caffeine fix is just one reason to love taking a Bay Area latte art class, though. By learning how to create cool designs with foam, your team can participate in fun group games that are bound to put a smile on everyone's face.
As you learn how to create latte art from experienced baristas in a Bay Area coffee shop, you can raise the stakes by playing guessing games, such as doing a spin on charades where you write down different suggestions for designs on slips of paper and then take turns trying to make them. Get creative with prompts and challenges that resonate with your particular team, and you'll be sure to have lots of laughter and fun in store.
2. Host a cook-off at Bay Area cooking classes
Who doesn't love to eat? When it comes to foolproof corporate team building activities, you'll be hard pressed to find someone who won't enjoy a cooking class. Especially in the culinary mecca that is the Bay Area, you can learn from the best culinary schools around and explore a variety of cuisines, from Italian to Indian. Alternatively, mix things up with something a little offbeat like a cheese and charcuterie board workshop that will come right to your office for a delicious team bonding event.
Most of our cooking classes involve breaking into small teams, which sets the stage for turning these mouthwatering Bay Area experiences into team building games. You can turn your class into a mini "Top Chef"-style competition and vote on who made the best dishes. These games are truly win-win scenarios, where everyone gets to learn new cooking skills and enjoy eating a delicious meal together.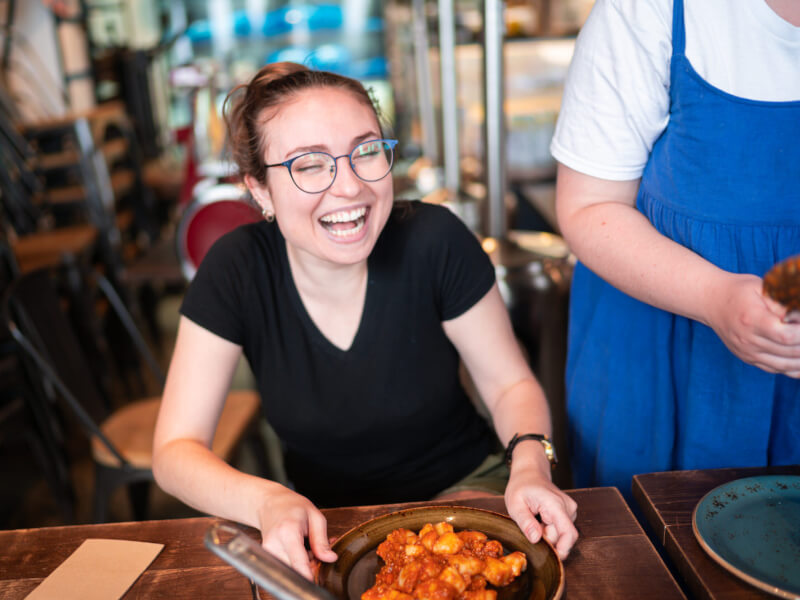 3. Create mini worlds inside DIY terrariums
At our terrarium making workshops, such as this closed eco-system terrarium class in Foster City, you and your colleagues can select from a variety of plants, moss, rocks, and unique decorative elements to make your own terrariums. You'll be guided by an expert instructor who will show you not only how to make a terrarium but how to care for it after you take it home (or to your desk at the office!)
Challenge your colleague to lighthearted team building games related to this DIY terrarium workshop, such as having everyone make up a fictional, fairy tale-type story about what happens in the miniature world they created. With decorative elements such as miniature gnome-like figures and crystals, it can open the door for imagining magical and mysterious alternative realities that might take place inside the glass walls of your terrariums.
4. Make a game out of making candles
If you have never tried making DIY candles before, you're in for a treat. At a candle making class, like this custom candle class in San Francisco, you can explore several dozen different scents and pick the combination that you want, for a scent that's uniquely you. Whether you want to recreate the scent of an evergreen forest or a batch of holiday cookies fresh from the oven, the choice is yours. Our friendly, expert teachers will show you the process of how to make candles step by step, and everyone will get to leave class with a custom candle they're guaranteed to love.
Candle making workshops can be turned into fun teamwork games by having your colleagues try to guess what the candles smell like without telling them, or trying to guess who made which candle based on everyone's personalities. This scent-focused workshop can also open the door for fun get-to-know-you games where everyone has a chance to share why they chose the scents they did, such as being challenged to tell a story about a favorite memory that relates to one of the scents they picked for their candle. Want to see more hands-on classes that work perfectly as team building activities in the Bay Area? Take a look at these
5. Learn how to make chocolate
When it comes to team bonding activities everyone can get behind, chocolate making classes definitely deserve a spot on the list. Rather than rewarding your team for a job well done by bringing in a box or two of chocolate candies to the office, why not host a memorable afternoon with one of the best team building activities out there?
At our Bay Area chocolate classes, you and your teammates not only get to learn how to make chocolate, whether it's homemade chocolate truffles, fudge, or how to temper white chocolate, but you also get to enjoy eating it as well!
If you're looking for a way to spin chocolate school into fun group games that everyone can enjoy, consider staging something like a blind taste test and have your colleagues try to guess what kind of chocolate they are eating. Or, once the chocolate making portion of the class is finished, take turns giving accolades for various professional achievements, big and small, and reward the recipients with chocolate.
You'll find that with our Bay Area arts, crafts, and cooking workshops, everyone on your team will have fun tapping into a creative mindset. From there, it can be easy to think up team building games incorporating the new skills and materials you are using in classes. It's time to relax, recharge, and let your imaginations run wild!