Enjoy partying with your friends, family, or colleagues with our virtual holiday party ideas! With tons of creative classes from calligraphy to cooking, we've got you covered when it comes to out-of-the-box virtual parties that'll have you enjoying the holidays like you never have before.
We've got a ton of Zoom holiday party ideas for you to choose from. For instance, learn the ancient art of calligraphy, create eco-friendly Christmas décor, or decorate yummy cookies! We also have Christmas party ideas for adults and remote teams like virtual cocktail making classes if you want to get your booze on.
Not only are these perfect virtual Christmas party ideas for large groups, but you can also enjoy them solo. Join our online cooking classes and whip up a fancy dinner for one or paint and sip online for a night of art with wine in hand. After all, nothing's better than a creative activity to help you slow down and let go of life's stresses for a little while!
Ready to kick off the festivities? Check out our ultimate guide to getting crafty at home, perfect for Christmas, Hanukah, Kwanza, New Years, and the winter solstice!
Add craft classes to your virtual holiday party ideas
Get into the Christmas spirit with a bunch of fun-filled craft classes! Combining Christmas cheer with arts and crafts, you can make everything from personalized ornaments to customized wall art for your home! Best of all, there's something for everyone regardless of age and interest.
For example, kids and older kids alike will have a blast making art out of repetitive patterns in our Christmas art workshop. No need to worry about materials either, because we can deliver everyone's DIY craft kits just in time for the live stream class!
Looking for corporate Zoom party ideas? Give a green twist to your remote team activities with our eco-friendly Christmas decoration workshop! Led by top crafters, you and your co-workers will learn how to turn old cards, pieces of paper, and other everyday items into Christmas décor that aren't just stunning but good for the planet, too!
Finally, try making your own Christmas trees for 2022! In this pre-recorded video workshop, you will learn how to make a unique Christmas tree out of just fabric, glue, and a pair of scissors. If the family can't get together this year, this class is an excellent way to get together and bond despite the distance. And when the class is done, everyone will have a similar piece to display in their homes!
Share the holiday love with calligraphy and brush lettering classes
This Christmas, why not give your cards and gift tags a thoughtful touch? Learn the traditional art of calligraphy and brush lettering, so that you can add an extra flair to your holiday writing tasks. This virtual experience is ideal for both grown-ups and kids seven years old and up, making them fantastic experience gift ideas for the artsy people in your life!
Like many of our online craft classes, this one also comes with convenient DIY craft kits filled with everything you need to make the most beautiful strokes, including ink, brushes, and paper.
Spruce up your door with a handcrafted Christmas wreath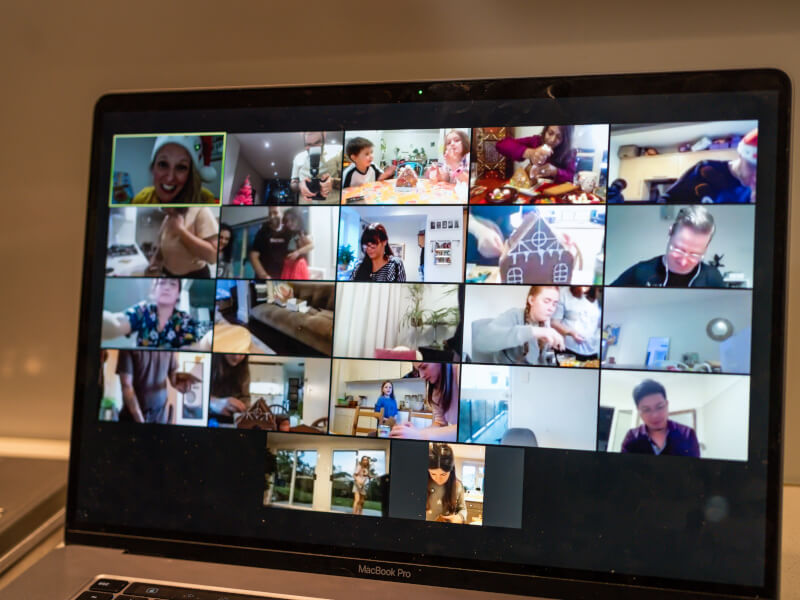 In this relaxing craft class, you'll learn how to create pretty Christmas wreaths inspired by native flora. Before the class, you'll receive a custom craft box packed with dried flowers and a wreath base, so you don't have to worry about a thing when it comes to supplies.
An experienced florist will guide the class, and they'll make sure it's incredibly beginner-friendly! Your instructor will walk you through each step, from finalizing your design to putting your wreath together and how to hang it on your front door. This wreath-making class is ideal for any occasion, whether you're just looking for fun things to do in San Francisco or want a unique activity for your upcoming virtual parties.
One of the best things about craft classes is that you'll learn skills you can continue to use. Next year, you can show your friends and relatives how to make DIY wreaths with the lessons you've learned in one of our online classes! Or better yet, why not get some of your loved ones together for a virtual party and learn how to make wreaths together? Even if you live scattered around the country, you can easily coordinate a fun virtual experience you can do together, all from the comfort of your own individual homes.
Bake sweet holiday treats and desserts
What's a Christmas celebration without candies, cookies, and other mouthwatering desserts? These holiday baking and dessert classes are sure to be crowd-pleasers!
For instance, invite your entire family, bake it up with your pals, or sign up your office for one of the most delicious virtual team-building activities ever! You can also join these baking classes alone and surprise everyone with fresh-baked Christmas treats.
These virtual baking courses will get you baking your very own gingerbread train, complete with marshmallows, jellybeans, and chocolate decorations. Holiday-themed cookie decorating classes are another great option for your virtual Christmas party activities!
Jazz up your holidays with paint and sip online
Switch off from work and responsibilities with a glass of wine or bubbly, and a paintbrush in hand! In paint and sip online classes, you'll get to unleash your inner Michelangelo while sipping on your favorite alcoholic drink.
In these boozy online painting classes, local artists will make you feel like a true maestro even if you've never painted anything in your life! These virtual paint and sip courses are laid-back affairs, so feel free to chat with other participants while you fill your canvas with color.
You can also book a paint and sip online class for special occasions, such as corporate online team building activities, hens parties, or children's birthdays!
Let your crafty side loose and celebrate a jolly Christmas in 2022!
Christmas is one of the most fun yet stressful times of the year. Between cooking up a holiday feast, shopping for the perfect gifts, and arranging parties, there's so much to do and juggle. And if you, like many of us, are feeling stressed and worried about Covid, you may be finding it hard to get into the holiday spirit.
These online craft classes don't just allow you to express your artistic side, but they can also help with the holiday blues. Browse our crafty virtual holiday party ideas here at ClassBento and let the merrymaking begin!
Baking and Desserts workshops - Virtual with Kits