Whether you love the bold, bright colors of pop art or subtle watercolor scenes are more your speed, we have tons of painting classes in San Francisco to suit your favorite style of art - whatever that may be! Learning how to paint is much more enjoyable when you get to jump right into your favorite style of art, so why not book a workshop with one of our talented painting teachers today and get ready to unleash your inner Picasso or Pollock?
If you are looking to find a relaxing new hobby to unwind with at the end of your work week or searching for fun things to do in San Francisco with some friends, we've got you covered. With beginning painting workshops in every style of art imaginable, you can find a class that will set your creativity ablaze and equips you with plenty of tips and techniques to continue painting on your own.
Exploring painting for beginners doesn't have to be a solo endeavor, either. Getting a group together to learn painting is a fantastic option for everything from team building activities to birthday party ideas. And if you're looking to add some new faces to your social circle, beginning painting classes are a great place to meet new like-minded friends.
If you're not sure where to start, here are a few different ideas for painting classes in San Francisco that each offer something different. Read on to see what strikes your fancy!

Learn acrylic painting for beginners at a collaborative paint party
Developing a creative hobby like painting is a wonderful way to prevent burnout at work and boost your wellbeing with better work-life balance. If you are interested in learning the basics of painting for these reasons, why not bring your fellow coworkers along for the fun? At this painting workshop for team building, which can be held at the location of your choice anywhere within 50 miles of South San Francisco, you and your colleagues can learn painting in a super accessible way as you make do collaborative art projects together.
This painting class covers the basics of how to paint while keeping the energy fun and lighthearted. You have a few options to choose from, such as a "paint and pass" party where each person works on a painting for a little while, then passes it on to the next person to continue. Or, you could opt for a "puzzle pieces" party, where everyone paints an individual canvas that, when put together with the others, makes up a larger image. In addition to teaching you how to paint, this workshop also has the added benefit of promoting team bonding and collaboration.
You'll use acrylic paint, which is a flexible and affordable medium that will be easy to continue on your own after class if you want. With acrylics, you can paint on pretty much any surface, from canvas to cardboard, and it will look great. If you like the pop art look, know that Andy Warhol used acrylics, so you're in great company!
Capture the natural world with a watercolor workshop
If you think that one of the best things about living in the Bay Area is access to nature, you'll definitely want to check out this nature-focused watercolor workshop from Spark Studio in the Mission Bay neighborhood. You will learn how to draw and paint with pencils, water-soluble crayons, and of course, watercolor paints. Using objects from nature as your muse, you will learn how to paint watercolor flowers, fruits, and more.
One of the best things about deciding to learn painting is you can have a new fun activity to do wherever you go. It doesn't tack much space in your overnight bag to pack a small set of paints and a brush or two. So next time you head out on a camping trip to Yosemite, you'll be able to bring your skills from this watercolor class along and make some gorgeous paintings of the awe-inspiring rock faces around you. Heading down to the beach in Half Moon Bay with your pals for the afternoon? You can add a splash of extra authenticity to some nature paintings by using the ocean water to wet your brush and create a striking portrait of the landscape around you.
At this nature-focused painting class, you can expect to tap into some of the calm, meditative energy that being out in nature gives you. And don't worry if you haven't picked up a paintbrush since your elementary school days, because watercolor painting classes in San Francisco are totally beginner-friendly.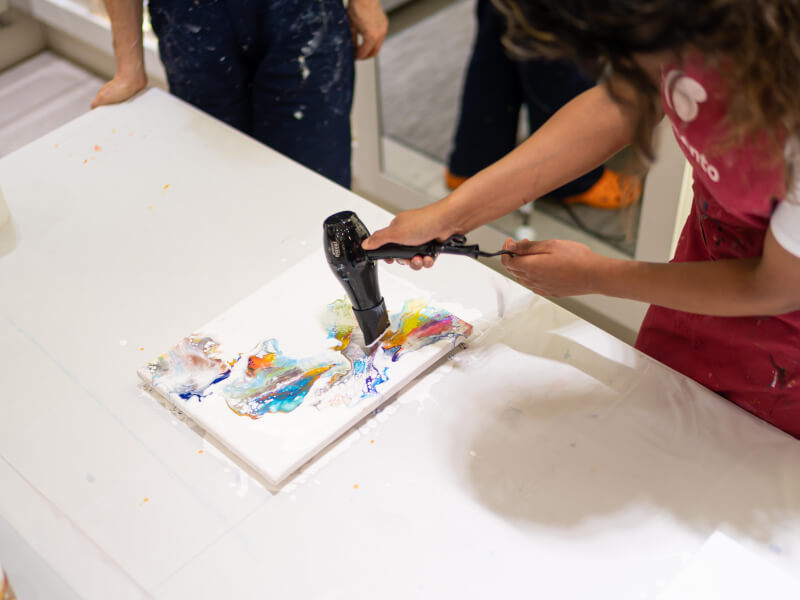 Express your rebellious side by painting a skateboard!
Home of Thrasher magazine as well as tons of epic hills to bomb down, San Francisco is a great city for the skate-hearted. If you are keen to learn painting and you skate, take your ride to the next level by creating your own custom-painted board! If you're willing to travel a few miles out of San Francisco, then this skateboard painting workshop in San Mateo may be right up your alley. In fact, you don't even need to skateboard to enjoy this class, as your completed board will also look great as a piece of cool wall art or as a unique gift to a friend who skates.
This painting class for groups is one of the best San Francisco activities for team building, as everyone will learn new skills together and get to take home their own custom board. It's also a fun way to cut loose a little and bond with your colleagues, without the hangover that happy hour drinks leave you with!
DIY painting is a fun and rewarding hobby to get into. And, as you can see, there are so many styles to choose from. If you aren't sure which style of art you prefer just yet, you can pick a few classes and see what sticks. Perhaps you will develop your own unique style of painting.
Even if you just attend painting classes in San Francisco once or twice, you can make the most of your time by asking your teacher any and all questions you might have about how to start out with a painting hobby. Wondering what kinds of paints or brushes to purchase? Your instructor will be happy to provide recommendations.
Painting workshops in San Francisco