Get yourself excited for the holiday season with some of these Christmas party ideas for adults. It might be far from today, but with everything that has happened in the past year, everyone deserves to celebrate the holidays with jubilation and style.
Truth be told, now is the perfect time to browse through party ideas for holiday parties. Be it office party ideas for your colleagues at work, Christmas party activities that you and your kids can enjoy, or even friendsmas party ideas for the most important people in your life — your best friends — it's better to check out these ideas now than one week before Christmas.
The best part is, these ideas are not your usual parties. These Christmas party ideas are more about spending time and doing fun activities with the people you hold near and dear. And, really, isn't that what Christmas is all about? Here are some of the things you can do to celebrate the holiday season.
Learn a new dish or two with a master chef
Why not elevate the usual Christmas lunch into a more memorable experience? Take your family and friends out to cooking classes in your area, where you can learn a new dish or two with the help of a local chef. If you're tired of the usual fare at home and you're looking to shake things up in the kitchen, here's the perfect activity for you.
There's something for everyone with these cooking classes. For one, you can make pizzas the traditional way with pizza-making classes, where you can gain a better appreciation for the dish. For pasta enthusiasts, there are pasta making classes where you'll get to make pasta from scratch — now, you'll know your spaghetti from your linguine! There's something for everyone and every taste, be it French, Spanish, or Thai cooking.
Imagine doing these classes with the most important people of your life - all of you gathered in the kitchen, preparing the ingredients and cooking the dish with your own hands. Everyone will surely love this brand-new experience for the holiday season!
Craft something with your own hands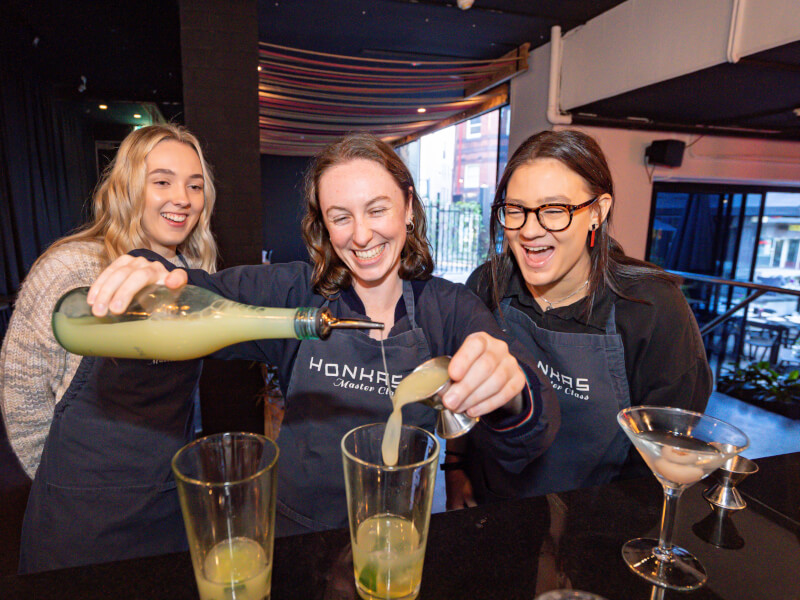 Everyone's used to buying Christmas gifts, so why not make your gifts by hand this year? Check out craft classes in your area and tap into your crafty side to make unique Christmas gifts for your family and friends. In fact, attending these classes with these special people in your life is in itself a gift that's worth sharing.
Pottery comes first to mind when it comes to crafts — there's nothing like the sensation of forming a shape out of a mound of clay and the sense of accomplishment upon seeing the finished product. These classes can also be a great place to relax and be present in the moment since you'll need to focus on what you're doing to create your beautiful ceramic vase or a pot.
Apart from this, you can try other Christmas craft ideas: knitting classes to make sweaters, blankets, and gloves to keep your friends warm for the winter; metalworking classes to create fantastic jewelry for your significant other; other courses to make various knick-knacks for your home. Not only will you learn something new, but you'll also get to spend time working on these crafts together with your family and friends.
Get the party started with cocktail classes
What's a Christmas party without a bit of booze? With cocktail classes, you'll even get to make whimsical concoctions by yourself! Everyone gets to be a bartender for the night, and you'll be surprised as to how much fun you'll have. Gather your friends for a laid-back night out, and learn the secrets to the best-tasting cocktails that you can make on your own.
It doesn't matter whether you're a beginner or an expert — everyone is welcome to these cocktail classes, regardless of your knowledge level. Hopefully, you and your friends will learn a couple of new drinks that you can recreate at any other time of the year, like birthday parties or weekends.
Tap into your artsy side and color with paint
Unleash your inner painter with art classes, where seasoned artists walk you through the process of creating art. From watercolors to photo transfers, you'll find a lot of art classes in your area that suit your liking. There's no need to feel intimidated - all these classes are extremely welcoming for novices, and you'll never feel out of place as you join like-minded people in creating art.
There's something for all kinds of folks, too. Take your kids out to art classes, where they can also learn paper mache apart from painting, and beam with pride as they show you their work of art. Or, you can invite your friends for a chill night and learn how to paint while you sip a glass of wine or two. This Christmas, give yourself and your loved ones the gift of creativity.
Keep it exclusive to close friends
If you're not up to a night out and prefer a quiet evening with your closest friends, there's still something for you! A lot of these experiences offer virtual classes and kits that you can enjoy at home. Invite your friends to your house, get your DIY kits delivered, and follow along with the step-by-step guide with a virtual guide.
Pick a party theme, choose among cooking, crafts, cocktails, and art classes, and have a casual, intimate celebration with the most special people in your life. You'll get all the thrills and joys of these experiences without even stepping outside your home — all you need is an art kit or maybe some ingredients from the grocery, and you're all set.
The best part? You can even share what you made with your friends as gifts. Maybe it's the Neapolitan pizza you made, or the terrarium you cultivated, or even the origami you spent minutes on folding. Whatever they may be, these gifts are even more meaningful, knowing that you made the time and effort to do it yourself.
As you can see, there are lots of ideas for an entirely different Christmas party this year. Take your pick among these five, and get ready to have the time of your lives!
Gift a unique experience
Pick a fun experience for them, or let them choose from our thousands of creative classes and kits.
Valid for 5 years.
card_giftcard Get a gift card