Whether you're a home chef and want to enhance your skills or a total beginner and need a place to start, there are so many reasons to try cooking classes in San Francisco! These unique cooking classes will spark a passion for cooking, help you succeed in mastering recipes, and give you a new perspective on your local culinary community.
These easy cooking classes also make for great date night ideas, birthday party ideas, and team-building activities. You don't need to go at it alone if you are intimidated. Plus, learning something new is more fun with friends, loved ones, or coworkers by your side. It'll make for a memorable experience and a great way to break from your normal social routine.
Don't worry, these classes are catered to beginners, so you'll be able to cook in comfort alongside a friendly and experienced instructor. Now is your chance to pick the brain of a professional chef, so take advantage of this rare culinary opportunity. From plant-based cooking classes to decorative dessert-making classes, there are many out-of-the-ordinary cooking workshops to try. After one of these cooking classes in the Bay, you'll have more refined cooking skills, new recipes you'll be able to recreate at home, and fond memories!
Take on a new challenge with plant-based meals
Whether you're a recently converted vegan, a long-term vegetarian looking to spice up your weekly menu, or someone trying to eat healthier and incorporate more plant-based meals into your diet, we have vegetarian and vegan cooking classes that will help you on your journey.
These classes cover a variety of cuisines including, Asian, Indian, Italian, and more! If you have a favorite, sign up and learn how to cook vegan and vegetarian recipes like a pro. After a vegan or vegetarian cooking class, you'll leave with healthy meal prep recipes, a better understanding of how to substitute ingredients for vegan alternatives, and new kitchen skills that will help you create any dish.
Learn how to decorate cakes and cookies
If you're an avid home baker hoping to advance your skill or you want to create gorgeous desserts for gatherings or gift ideas, learn how to decorate cookies and cakes in a decorating class. Learning how to decorate will take your baking skills to the next level. Not only will you be able to create delicious treats, but now you can turn them into edible works of art!
Decorating can also be a great creative outlet and a way to unwind. Learn how to create designs with royal icing to create delicate holiday cookies or learn how to pipe buttercream flowers to create show-stopping cupcakes.
Learn Japanese cooking to recreate your favorite recipes
From ramen to sushi, there are some delicious dishes in Japanese cuisine. These might seem like challenging dishes to tackle on your own, but with a Japanese cooking class, you can learn how to recreate your favorite meals from an expert. These classes are catered to beginners, so your instructor will cover all the basics. Even if you don't know how to cook rice properly, your friendly chef will make sure you feel confident with the task by the end of class!
These classes also make for fun group activities. Instead of inviting your friends or coworkers out to a sushi restaurant, take them to a sushi-making class! An interactive experience, such as these workshops, will create a much more memorable experience over just another night out. These classes also make for great team-building activities or date night ideas.
By the end of class, you'll have new sushi or ramen recipes to take home with you to recreate on your own. If you're feeling confident, or maybe want to challenge your skills, you can even take an advanced sushi making class and learn how to make unique sushi rolls and maybe even a sushi boat!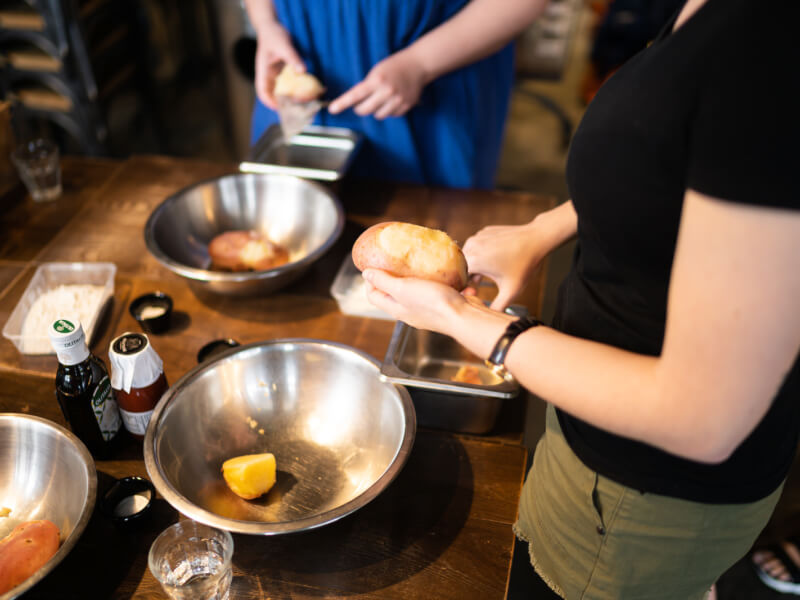 Refine your technical skills with cooking classes in the Bay
If you want to become better at cooking, there are basic cooking skills you can learn to easily elevate your homemade meals and become a more confident chef. Try a knife skills class and learn everything from how to chop an onion properly to how to mince garlic and much more!
If you're a household of near-carnivores, meat butchering is a useful skill to learn! Whether you usually host Thanksgiving or you want to have a better connection with your ingredients, this cooking class will teach you how to carve a chicken, how to fillet a fish, and more.
These cooking lessons will help your efficiency in the kitchen and make your meals look as stunning as they taste. Having a basic understanding of how to use kitchen tools, navigate appliances, and cooking basics can go a long way if you want to be a confident home chef. In no time, you'll be able to master all the recipes in your cookbooks with ease.
Learn to take advantage of the seasons
From seasonal soup-making cooking classes, to farm to table cooking classes, there are many classes that will help you get in touch with seasonal flavors and ingredients. It is beneficial to cook with seasonal ingredients because you will be using the freshest and most nutritious versions of your produce. This means your meals will taste far better than out-of-season produce that will ship in from hundreds of miles away. If you choose to shop at local farmer's markets, you'll also help support local farmers!
Not only will you be eating healthier and tastier meals, but these recipes will also get you excited to cook and enjoy the flavors of the season. There's nothing like a fragrant stew on a cozy fall evening or a refreshing pasta on a hot summer day. You can even take a jam-making workshop and learn how to make homemade jam out of your excess fruit supply or garden harvests. Taking advantage of the seasons will also help you rotate new and interesting recipes through your kitchen, so you won't get bored of eating the same things every night. Learn from the pros so you know exactly what to look for each month and how to use your ingredients to their full potential!